We've said it before and we'll say it again: collaborations are the best way to build your audience as an influencer – yes, travel influencers, too!
You may know this already; you may have even read a dozen posts about collaborating with other influencers. But every niche is different, of course. The way you collaborate will be different than the way a beauty blogger will collaborate! So we got in touch with a few travel influencers to give you the DL on how to do travel collabs right. What better way to learn than by checking out what others have done?
Khoi Nguyen Swaps Links
Khoi Nguyen, the Vietnam-based travel influencer of The Broad Life has been focusing on building his domain authority. (In short, domain authority is a number that determines how well you'll rank in the Google search results. Read more about it on Moz!)
How do you build domain authority, you ask? Backlinks.
Knowing this, Khoi started posting Collabs on Perlu! Late last year, he swapped links with The Saltbox.
"The best thing is," Khoi says, "right on the first day of the new year, 2019 […] my blog's DA improved 1 point!"
This improvement came after months of not seeing any movement.
"Honestly," Khoi continues, "that is one of the best ways to start the new year to me. So, really, thanks to Perlu! That made my beginning of the year great!"
---
Join the Ranks of These Successful Influencers.
---
Kacie Morgan Hosts a Guest Series…
Foodie and travel blogger Kacie Morgan from The Rare Welsh Bit has perfected the art of the blog series. Her guest post series, Eat Like a Local, is a huge hit with her followers.
"In each post," Kacie says, "a fellow blogger contributes an original recipe from their culture or from the destination in which they currently reside."
Kacie has been running the series since last year – and people love it!
"It helps me out," Kacie continues, "because it means I have some regular content to publish every fortnight or so, freeing me up to focus on writing other posts."
Kacie isn't the only one who benefits, though. Every influencer she works with gets a backlink (essential to ranking higher in Google!) and exposure to Kacie's audience.
The most popular recipe so far? Yellow Split Pea Soup from Stine Mari of Ginger with Spice. YUM!
So, if you want to collaborate and are in need of some content, kill two birds with one stone like Kacie and start a guest blog post of your own! Ask people to create a travel guide for their hometown, write a review of their favorite travel memoir, or compile a list of the top art museums in their state (or country!) – the options are endless!
…and Baia Dzagnidze Joins in!
Baia Dzagnidze from Red Fedora Diary discovered Perlu through a fellow travel blogger and was immediately interested. Baia may be new to Perlu, but she's already posted several Collabs for her blog and is getting a good response. She's doing collaborations right just by putting herself out there and building a network on Perlu.
Growing her influencer network paid off fast, too. Baia already participated in Kacie Morgan's guest series.
"I enjoyed working on the collab," she says, "as I had to cook my favorite meal and take good pictures of it so Kacie could include them in the post […] I hope her readers will find the recipe interesting and try to make it themselves!"
Sometimes the hardest part about collaborating is that first step: jumping in. But if you take away only one thing from this post, it's that reaching out, networking, and collaborating with other influencers is the best step to getting exposure and growing your audience!
Alberto Branca Guest Posts
Alberto Banca has been connecting with other influencers since he first started his travel blog, Why Not?
"There are many ways to meet people," Alberto says. "Nowadays, any kind of social [platform] allows you to reach any person in this world."
Alberto was happy to find Perlu, where he was able to find like-minded influencers in his niche who were looking for people like him to collaborate with.
"Here, I've found the possibility to write my first articles featured on other blogs," he says.
Alberto is definitely doing collaborations right – guest posting is one of the best ways influencers can get exposure and build an audience fast!
"I'm just beginning, but I've already started to write guest posts for blogs similar to mine, and I'm pretty excited about the future," Alberto says. "I'm sure I can find other kinds and other levels of collaborations here."
Jason Brings Guests on His Podcast
There's a type of media that made an unexpected comeback in recent years: podcasts. Even we here at Perlu have jumped on the trend!
And so has Jason from Zero to Travel. In fact, he's been podcasting since 2014! And there's a reason he hasn't stopped: podcasts work. He's even got a 4.5 star rating on the podcast app!
Jason doesn't just talk into a microphone by himself, though – he brings in other influencers like Hannah Dixon, creator of the Digital Nomad Kit.
Like any collaboration, interviewing another influencer not only lets you make a new connection, but it also connects you with that influencer's audience. You better believe all of Hannah's followers went straight to Jason's podcast to give her episode a listen!
Kara and Nate & The Budgeteers Take a Trip
Taking a trip with another travel influencer is the dream, right? Just look how much fun travel influencer couple Kara and Nate had with The Budgeteers!
These travel influencers know there are huge advantages to planning trips with each other:
It's fun and easy – traveling with other people is always a blast (especially when they love travel as much as you do)! You're already planning a trip, anyway. Just ask someone to come along. They can book their own flight and accommodations, and all you have to do is meet up and have fun.
You can get a ton of content from just one trip. You could film a video, take pictures, co-create travel guides, interview each other – the possibilities are endless! One trip with another influencer can get you weeks of content.
You can double your audience with no extra effort. By traveling together, you do all the things you normally do on your trips, but then you give each other shoutouts and backlinks. Their audience sees you on their blog or YouTube and what happens next? They come visit your blog, of course!
Planning a trip with another influencer would be a blast, but what if you already have all your trips planned? Tickets have been bought, hotels have been booked – that means it must be too late to travel with another influencer, right?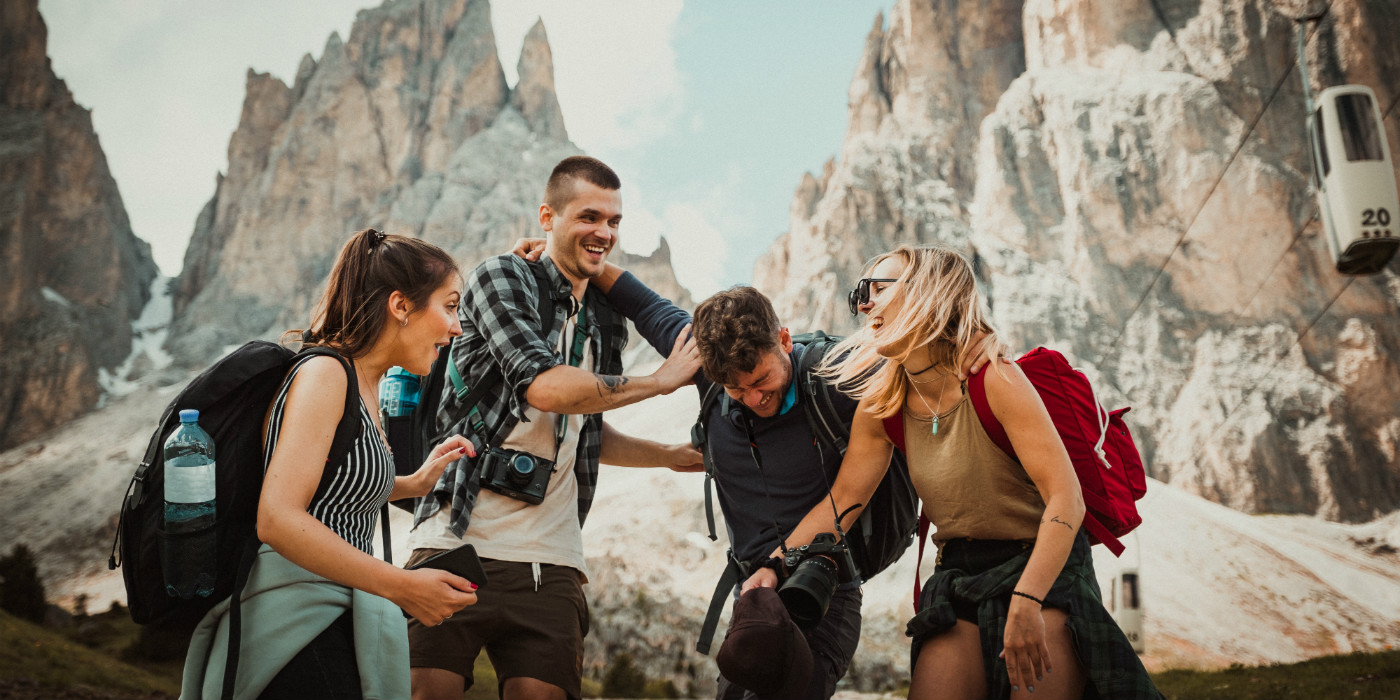 Not so! Even if you're not able to plan a trip with another influencer, you can still follow in The Budgeteers' footsteps by blasting your plans to your influencer network. Let other travelers you know in on where you'll be going and when. They may just decide to meet up with you!
Who knows? They may already have plans to be in the area. If you're visiting Rome and another influencer is visiting Venice at the same time, a quick train ride could land you both in Florence for a day or two! The great thing about these kinds of collaborations is that you don't have to do a ton of planning – get together, film your trip, snap some pics, and voila! You've got some awesome content and a whole new audience to share it with.
There are tons of ways to collaborate on content with other travel influencers. If you don't have a network of travel influencers, check out Perlu, which gives you everything you need to connect with other influencers in your niche so you can get to collaborating!